It's no secret that music and cannabis go together like, well, music and cannabis. The music industry has been playing this angle for generations and music junkies have been getting high to their favorite sounds since the folk '50s and rock '60s. Following in this thought-to-be-extinct tradition are cannabis companies working the connection the way record companies used to do back then, but in reverse. Now cannabis companies are taking the lead and picking the musicians they want to work with to create special limited edition, custom-designed cannabis products and packaging.
When L.A.-based singer/songwriter/musician/producer Jeffrey Paradise, leader of the band Poolside, connected with Bay Area custom-cannabis brand Space Coyote co-founder/CEO/designer Libby Cooper, the match was as natural as, well, music and cannabis. "Poolside is one of my favorite bands," says Cooper. "It has been a long-time dream of ours to collaborate on a joint with musicians, and now that dream is realized."
"Jeffrey was introduced to [Coyote co-founders] Scott Sundvor and Libby at Space Coyote through a friend. He knew they were Poolside fans and good people with a healthy business, so when they reached out about collaborating he was open to doing so," according to Another Planet Management, who represent Poolside.
"Poolside – both Jeffrey and the management team – were involved at every step of the process. Jeffrey explained that he wanted the effects of the joint to mirror the effect that Poolside's music has on listeners and we wanted the artwork to stay faithful to Poolside's visual identity. Libby at Space Coyote handled the design and did a great job. In fact, we liked her design so much that we repurposed it for the cover of Poolside's recent collaboration with DRAMA, 'I Feel High,'" said Another Planet Management spokesperson.
Paradise and Cooper worked closely to create one-of-a-kind custom artwork for the package that appeals to both the Coyote fan base and the band's. "The general idea behind this promotion for Poolside was to cater to our fans who also enjoy cannabis as we were aware that there is quite a bit of crossover there," said the company. "We wanted to create a piece of memorabilia that would have value to them both as fans and cannabis consumers, which is how we ended up with the Poolside-branded tin.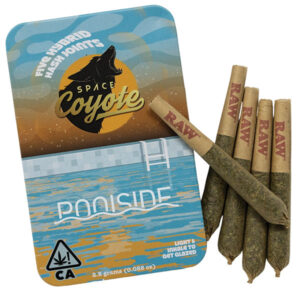 The Poolside/Space Coyote package, launched last fall, consists of a 5-pack of half-gram hash-infused prerolls, combining Sour Cookies Hash with MAC flower from Sticky Fields, a renowned cultivator based in the heart of Mendocino County, and clocking in at 29.5% THC. The joints come in an environmentally-friendly, reusable, collectible tin – collectible because the 'Daytime Disco' packs are limited edition.
Another Planet Management promoted it from the music side to reach new fans. "Poolside promoted the collaboration heavily across all social media channels and in our mailing list," the company said. "Space Coyote ran a PR campaign which resulted in first-time coverage for Poolside in many notable cannabis outlets. Certain press opportunities requested playlists from Jeffrey and he was happy to supply those. Reception across the board has been very favorable, and to this day we're still seeing fans post about the joints on social media."
Poolside's Paradise was ecstatic about the partnership. "Only one thing is better than chilling out listening to groovy music, and that's chilling out listening to groovy music while smoking a great joint," he reveled. "I've always heard that people like to listen to Poolside when they smoke – now they can smoke with Poolside when they smoke!"
Space Coyote's marketing hype urges fans to snatch up the tins while they last: "To set the vibe, spark up one of these delicious joints while listening to 'I Feel High.' Bonus points if your feet are in a body of water. These Hybrid Hash Joints create the ultimate poolside glaze. This is an incredibly limited run, so once these Daytime Disco packs sell out, you won't be able to find these collectible tins again!"
Poolside (poolsidemusic.com) began about 10 years when Paradise set out to produce, according to the group's bio, "a light, danceable sound with sunny vibes and liquid rhythm" he dubbed "daytime disco." Since then, Poolside has released three well-received albums – Pacific Standard Time (2012), Heat (2017) and Low Season (2020). His "I Feel High," a track off their Low Season album, and the video have built a big following on YouTube. Paradise has also remixed high-profile acts such as Jack Johnson & Milky Chance, Miami Horror, Rhye, Big Wild and L'impératrice, toured the world with his band for nearly a decade performing at major festivals including Coachella, Outside Lands, Primavera and Corona Capital, and opened for marquee artists like LCD Soundsystem, Kacey Musgraves and Tycho.
This was a collaborative first for Poolside and Another Planet Management, but not Another Planet Entertainment's first foray into the space – they organized the historic Grass Lands at Outside Lands event in Golden Gate Park in 2019.
Though Space Coyote's product collaboration with Poolside was its first with a music group, Space Coyote (spacecoyote.org) has developed its own loyal following as a sought-after brand of high-quality, potent prerolls. According to a Space Coyote: "Crafted for stoners by stoners, Space Coyote celebrates art, equality and the psychedelic side of cannabis. Collaborations with cultivators, extract brands and artists are at the core of Space Coyote's mission."