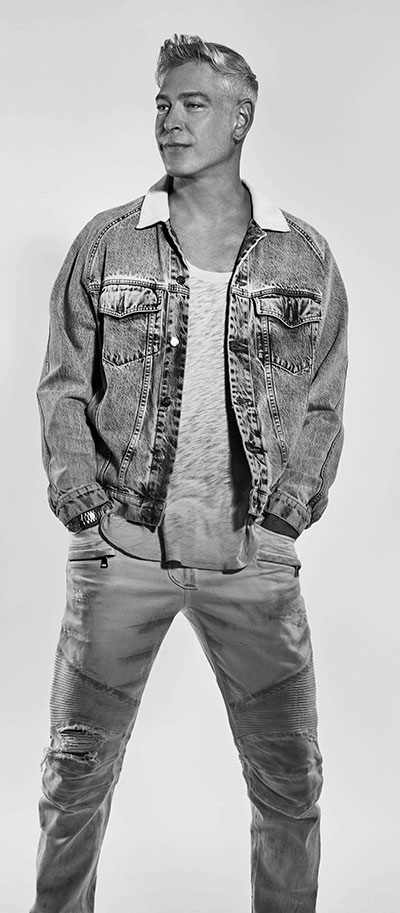 Matisyahu defies definition. And just when anyone thinks they can define him, he changes form, evolves and moves in delightfully unexpected ways. The beatboxing reggae artist – who burst onto the music scene in the mid-2000s with his signature frenetic passion for spirituality in song – is seeking to shed his own skin and simplify his essence. Inspired by a diverse array of music, including hip-hop and rock, Matisyahu is ready to come full circle.
In his latest single, "Chameleon," Matisyahu (aka Matthew Miller) sings, "Like a chameleon / Shedding my coat / Shedding my skin / Oh the places I been." And in his debut 2004 single, "King Without a Crown," Matisyahu rapped, "Strip away the layers and reveal your soul / Got to give yourself up and then you become whole." He spent nearly two decades following his own advice and showing his fans the benefits of staying true to the mission while growing physically and spiritually. Yet, while the overarching themes in his lyrics seem to advocate the same thing on paper, his spiritual worldview and the process for shedding his own skin has drastically changed.
To understand Matisyahu ("Gift of God" in Hebrew) and his evolution as an artist, take a trip to Crown Heights, New York – a neighborhood in the central section of Brooklyn – where the musician studied in a Chabad Yeshiva. A yeshiva is a Jewish education institution that focuses on the study of traditional religious texts. Chabad is an Orthodox Jewish Hasidic dynasty. It's considered one of the largest Hasidic groups and largest Jewish organizations globally. Inspired by his studies, Matisyahu came out on stage in his yarmulke, once-signature beard, hasidic clothes, and shifted perceptions with his fiery, passionate rapid-fire beats – the likes of which the world had never seen or heard before.
In actuality, there was someone who similarly broke the mold, pairing singing with enlightened Jewish teaching. Known as the "singing rabbi," Shlomo Carlebach [1925-1994] was widely considered to be the most prominent Jewish religious songwriter of the 20th century. Matisyahu looked up to Carlebach, who was a pioneer in the Baal teshuva movement ("returnees to Judiasm"). Matisyahu would identify with that movement as he had a spiritual awakening, studying Orthodox Judiasm despite being brought up as Reconstructionist. Though Carlebach passed away long before Matisyahu's time in Orthodox Judiasm, Matisyahu said, "I could feel his spirit in a way that has been unparalleled," when he prayed at his synagogue.
While Carlebach had his traditional folk sound, Matisyahu was determined to bring a similar sentiment and message, and modernize it for the 21st century.
Songs like "King Without a Crown" and "Chop 'Em Down" landed on the scene with a proud bang, especially when he performed them live at Stubb's in Austin, Texas. There was a remarkable intensity with an infectious beat, with lyrics that radiated positivity and purpose. Fans would not only bob their heads to the rhythm of his word, they also found deeper meaning in his lyrics. References to Jewish mysticism were seamlessly interwoven with his work. Casual listeners could appreciate Matisyahu's devotion to God ("HaShem's rays fire blaze burn bright and I believe") while Jewish listeners could find deep resonance in hearing Jewish teachings immortalized in contemporary music.
His reggae/hip-hop hybrid approach to music resonated strongly with fans and journalists alike. In 2006, he was named as Top Reggae Artist by Billboard Magazine. Also that same year, Matisyahu was awarded the "Most Loveable Oddball" award by Esquire. He appeared in two critically acclaimed documentaries. As the 2000s were wrapping up, Matisyahu toured relentlessly. It would seem he found a found a successful formula and had every intention of riding the wave of success as long as he could.
TOAST spoke with Matisyahu, who, at 42, sounded contented in his own skin and embraced the idea of continuous rebirth. Reflecting on his illustrious career, he looked back at music he made in his 20s. "My early songs were […] ideas about the soul's purpose in this world and how to relate to the struggles that life is filled with." Then, he thought his songs found "concrete answers" addressing the soul's purpose, which he believed were rooted in Chabad philosophy.
"Story over, right? We are just beginning," said Matisyahu.
Indeed, it was.
After living a few years in Crown Heights, Matisyahu found himself feeling detached from himself and reality. He connected with a therapist who eventually became his mentor, helping him study psychology and philosophy found within his religion. His studies would later serve as inspiration for his 2010 album Light. "The new concepts began to touch upon some of the mystery and darkness relating back to God's manufacturing of the world through a concept called tzimtzum, which is essentially the lack of light," said Matisyahu.
From Matisyahu's Light came his 2009 breakthrough anthem, "One Day," where he sang about world peace and unity. In his global chart-topping song, he expressed full-throated optimism that the human race would one day be freed from negativity, hate and violence – even religion. Though he sang about transcending the earthly chains of discontent, Matisyahu still yearned for transcendence. Feeling increasingly isolated from the Jewish community he believed didn't understand him, Matisyahu decided to take a deeper dive into the ideas he brought up in Light.
In 2012, Matisyahu released his next album, Spark Seeker, which featured singles like "Sunshine" and "Live Like a Warrior." In the music video for "Sunshine," Matisyahu's appearance had drastically changed. He was clean-shaven and without his traditional hasidic clothes. He explained to fans on his website that he grew the beard for religious reasons. "At a certain point I felt the need to submit to a higher level of religiosity… to move away from my intuition and to accept an ultimate truth," he wrote. "I felt that in order to become a good person I needed rules — lots of them — or else I would somehow fall apart. I am reclaiming myself. Trusting my goodness and my divine mission."
To his fans, he projected evolution in the form of a physical transformation. But he continued to be challenged. By the time he released his album Akeda in 2014, Matisyahu suffered from health issues, including one that kept him in complete vocal silence for nearly six months. From these issues birthed the "clarity and contentment" that he'd been searching for his entire life. He began to make changes personally and in the music, which he described as "extremely painful." He saw a transition from writing from the head to the heart, rooting his music in emotional experience.
Matisyahu's 2017 album Undercurrent saw him take a more improvisational route. Songs like "Tell Me" and "Driftin" showed a joyous, more world-traveled Matisyahu circumnavigating through mid-life, venturing into realms of confusion and murkiness. His songs were longer. The music drifted into meditative unpredictability. He didn't seek commercial success. He sought personal clarity, and he had no objection to floating through a fluctuating undercurrent to get there.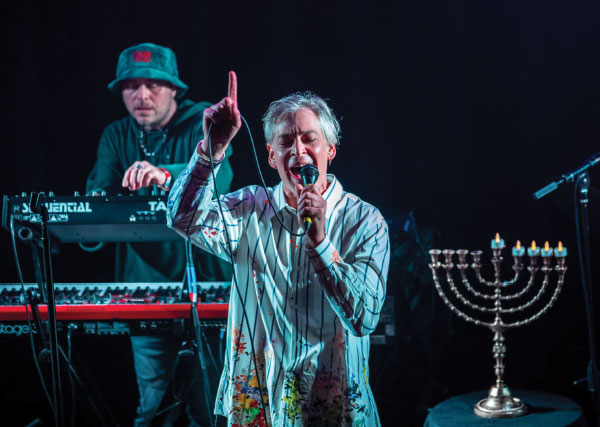 "As I dipped out of the light and into my own world of murkiness, lost in questions and relying solely on self for answers and discipline, the undercurrent returns him [Matisyahu] to Matt Miller, only this time living on the other side of the Tappan Zee Bridge," he said.
"What happens next is quite miraculous," he said. "I find love and family and contentment and joy at home with my kids and new wife. If comes full circle." During the early days of the pandemic, Matisyahu had a baby girl. With new-found joy in his life, Matisyahu revealed he was stepping back into the light with his upcoming self-titled album Matisyahu, which drops on March 25.
"It is self-titled for this reason, as I step back into the light and purpose as it is found in this world. The world of action," he said.
Full circle.
Matisyahu's spiritual journey is far from over. Every album, every song is deeply rooted in symbolism that brings him closer to his spiritual core. And because his journey has had many twists and turns, the meaning of his music has matured and evolved. One does not necessarily need to have a kabbalistic worldview to appreciate the depth of his discography and his pursuit of personal evolution.
In his advice to aspiring artists, Matisyahu said, "In order to find your voice, you have to explore different styles. Don't be timid and don't be rigid. If you are afraid to try something because you are afraid it's not authentic, then you may never find your authentic voice. Likewise, if you lock yourself in too early to one style, you may never find your true voice because of stubbornness or eagerness. Patience is key but so is the fire. It is the balancing act of fire and water. Honesty is key. The more honest, the better you will be."
Listen to Matisyahu's latest single, "Keep Coming Back for More" ft. Salt Cathedral's Juliana Ronderos, from his upcoming self-titled album (coming out March 25):
The song is a touching expression of his devotion to his wife and their young daughter. Read about the story behind "Keep Coming Back for More" here.