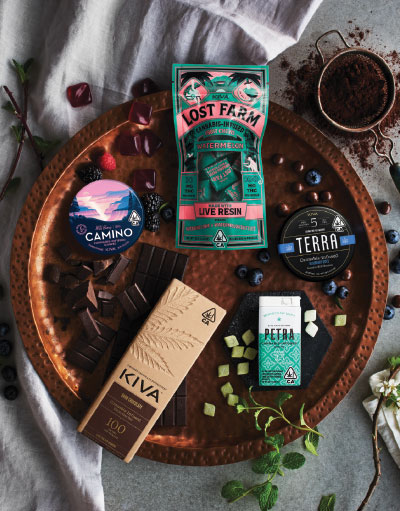 It was 2010 when the husband and wife team of Scott and Kristi Palmer experienced their "Eureka!" moment. When experimenting with cannabis and chocolate in the kitchen Kristi grew up in San Leandro, California, they made a discovery that would reshape the medical cannabis landscape in the shape of chocolate bars. Adding THC to chocolate not only made cannabis taste great – when it really didn't – it also made enjoying high-grade chocolate a truly out-of-body experience. Under these delirious but delicate conditions, long before legalization, Kiva Confections was born.
Like many start-up stories in the young, chaotic cannabis business, the spark that created Kiva was one of opportunity knocking and then having the guts and passion to answer the door, and the Palmers have an abundance of both. Today, Kiva is the No. 1 edible company in California, offering a full buffet of cannabis-infused chocolates, mints and fruit-flavored gummies that have become some of the most recognizable products at dispensaries throughout California and across the country.
Chocolate has long inspired lifelong loyalty, and cannabis falls into that same category. After exploring products at neighborhood dispensaries and a chance visit to a local Bay Area chocolate shop, the Palmers came to a fateful conclusion. "The cannabis edibles market was vastly underserved," observes Kristi Palmer. "Tested, consistently potent products just weren't available to consumers. Chocolate and cannabis seemed to be a match made in heaven and would be an approachable, measurable medium for consumers to gain trust in edibles and their benefits."
Like many home-baked success stories forged in the crucible of the embryonic cannabis business, there was a good amount of serendipity involved in the recipe. Searching for the perfect blend of cannabis and chocolate wasn't exactly the career the Palmers had initially picked out for themselves. But cannabis stimulates change in so many unforeseen ways. "I am formally trained in photography," Palmer told TOAST, "but became more passionate about cannabis and business and wanted to dedicate my career to it."
The Palmers looked around at the state of the edibles business in 2010, developed a clear vision of what it could be and started to aim for that goal. They didn't know they were on their way to becoming one of the great success stories in the cannabusiness. "The goal back then was to reinvent the cannabis edible into a trusted consumer product," Palmer notes. "It is a goal that still informs all new products that we develop. Back then, we had our heads down working every possible moment on the business – there wasn't much time to think of anything else."
Kiva is all grown up now. Kristi's kitchen has given way to 200+ employees sourcing, mixing, blending and baking new products and product lines that tickle the fancy of edibles consumers.
"People love trying new products," Kristi remarks, "and lucky for us, we love making them – seasonal items like Peppermint Bark Chocolate Bars or more off-the-wall stuff like Turkey Gravy. People enjoy trying different things, so our limited edition items do really well throughout the year.
"And, of course, gummies," she adds. "Consumers love the gummy. Maybe it's the convenient format or the way they taste, but a delicious, unique gummy that serves the tailored needs of the consumers is winning in our product portfolio now."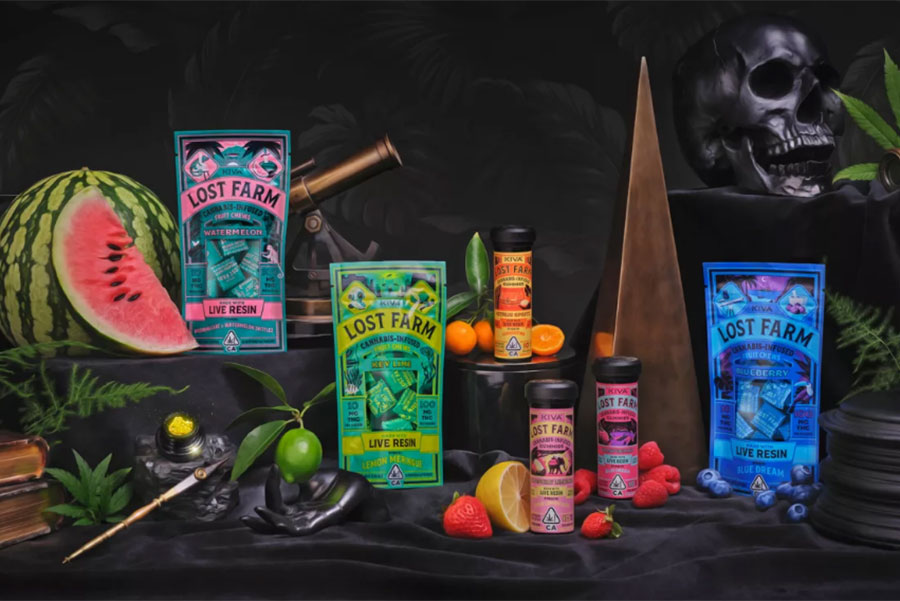 Today, Kiva/Camino's brimming portfolio of gummy flavors reads like a travelogue through the fresh fruit forests of California where oranges, lemons and watermelons hang heavy from branches all year long. Visit the "California State of Mind" with Wild Berry, Sparkling Pear, Pineapple Habanero, Watermelon Lemonade, Midnight Blueberry, Wild Cherry, Holiday Punch, Tropical Punch, Blood Orange, Yuzu Lemon, Blackberry Blitz, Citrus Breeze, Orchard Peach and Watermelon Spritz. The distinctive round Camino gummy tins are creatively designed, each flavor individualized with colorful, elegant artwork, and each celebrating different locations and outdoor experiences found in California. It's hard to throw the empties away, and so they pile up!
The pandemic provided an unintended boost for Camino edibles. Tired of that trapped-in feeling, people began turning to edibles for a little inner traveling. "Edibles saw an uptick during the early months of the pandemic," Palmer confirms. "When you think about it, edibles can be used indoors, in public, in front of your kids, and they bypass the lungs entirely while delivering a measured amount of THC or CBD. In a time when we were all locked indoors and climbing the walls, edibles were a really great option for consumers to turn to."
"Life is like a box of chocolates," drawled Tom Hanks, sharing his mama's wisdom in Forrest Gump. "You never know what you're gonna get." Well, for one thing, you know when you eat a piece of Kiva chocolate or a Casino gummy you're gonna get high. Kiva is No. 1 for a reason, and it's not because they offer a one-off experience. Through the quality and consistency of its nuanced products, Kiva has earned consumers' trust, a trust that brings customers back again and again. Cautious customers dipping their toe into edibles for the first time can confidently expect an experience they can handle, one that simply enhances even the most basic activities. On the advanced side, more experienced consumers can expect the full-body lift they crave.
"Our products that are a piece size of 5mg THC or less [Petra, Kiva, Terra, Camino] are excellent for newcomers," suggests Palmer. "A small amount of cannabis can help lift the mood, aid in sleep and pain management, and make mind-numbing tasks, like housework, a lot more enjoyable! Our Camino gummies feature terpene blends to help guide the user into a specific effect."
Kiva's advanced Lost Farm Chews Core Collection currently consists of flavors paired with Blue Dream and Gelato strains: Blueberry x Blue Dream, Watermelon x Gelato and Strawberry x GG4. The Gummies Core Collection includes Raspberry x Wedding Cake, Strawberry Lemonade x Super Lemon Haze and Juicy Peach x Mimosa. Lost Farm chews are made with strain-specific 100% live resin, a superior extract that boasts all the delicate cannabinoids, flavonoids and terpenes normally lost in the cannabis drying and curing process.
"Lost Farm features a 10mg dose, with a strain-specific, live-resin extraction." explains Palmer. "Experienced consumers will enjoy trying so many different strain and flavor combos. The nuances from strain to strain are a very fun way to experience edibles."
On Kiva's 10th anniversary last year, the Palmers wrote a "thank you" note on their website that captured their long journey. "We were there when businesses were being raided, when the first recreational purchase was made in California, and when cannabis finally earned the designation it always deserved: essential. When stores, restaurants and gyms were closed this past year, Kiva and its services were viewed through a new lens and with a new understanding: cannabis is crucial to the health and well-being of millions. … It is a privilege and an honor to take this ancient, enchanting plant and explore the diverse flavors, profound effects and incredible experiences it can impart on our lives."
For more information of Kiva and its products visit https://www.kivaconfections.com.