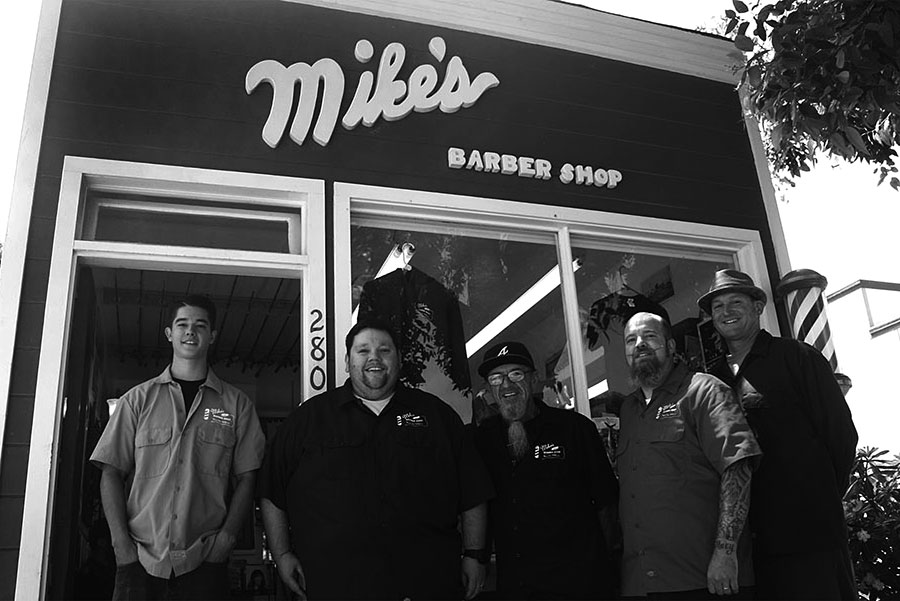 Mike's Barber Shop in Morro Bay has 80 years of rich history. You can feel that history when you walk into the comfortably small shop at 280 Morro Bay Blvd. The overall vibe in the place is relaxed and cheerful. Customers are seated in one of only two meticulously restored vintage chairs, previously occupied by celebrities from yesteryear passing through from Los Angeles to Hearst Castle.
They've been serving the community since 1941. Originally named Lendyl's Barber Shop, founder Lendyl Johnson sold the business to his loyal employee, Mike Dominguez. After Dominguez took it over in the early 1960s, the shop's name changed to Mike's Barber Shop. He stayed with the business for 52 years until retiring in 2012. The business would change hands a second time. Jon Elliott, or "Barber Jon," became the third owner in May 2012.
Barbering was not Elliott's first career choice. A Davis native, Elliott moved to Morro Bay after he closed his carpet-cleaning business in Las Vegas. He began working for Dominguez in the mid-2000s and never looked back, keeping the tradition alive by preserving the traditional array of barbering services: clipper and scissor haircuts, straight razor shaves, beard trims and ear-to-ear shaves with a hot towel and aftershave.
Joining Barber Jon is his talented crew. Barber Jerry has been a fixture at the shop since 2014. He specializes in haircuts for special needs children and adults. Barber Morgan is a Morro Bay native, skateboarder, and specializes in tapers, fades, lineups and designs. Born and raised on the Central Coast, Barber Tony – who is also a disc jockey – offers traditional barbering while talking music.
More often than not, reggae and ska is playing from their speakers with a healthy emphasis on bass. Everyone is talking and joking around. They treat customers like a sibling or a best friend – with lovingly methodical dedication to the cut. There are photos on the wall showcasing 80 years of success, satisfaction and well-earned longevity. A TV runs a loop of historic photos. While customers are surrounded by elements of the past, Mike's Barber Shop elicits more a sense of timelessness than nostalgia, despite preserving its old-time decor. What happens in the shop stays in the shop. Nothing outside the shop really matters. Haircuts never feel like chores. They're experiences. There is camaraderie that lights up the room. Many jokes are made. Time flies by and no one notices. When all is said and done, customers feel a whole lot cleaner, more refreshed and refined. They're always leaving the store with an ear-to-ear smile.
There are plenty of reasons customers look forward to haircuts as soon as they book them online through the Mike's Barber Shop website. They know exactly what they're getting.
Always seeking to challenge themselves and improve their craft, employees will sometimes attend barbering conventions. They'll provide haircuts at various events and parades with a fully assembled open-air barber shop on wheels. Customers experience a bit of an adrenaline rush as they get their haircut in a breeze. They even make house calls with mobile haircuts. They take barbering seriously while having a serious amount of fun. One can only hope the never-ending party at Mike's Barber Shop will last for a century and more.
Mike's Barber Shop is currently accepting appointments online at mikesbarbershop.com or text/call the shop at (805) 772-9262. Appointments have the shortest wait time and are strongly preferred.