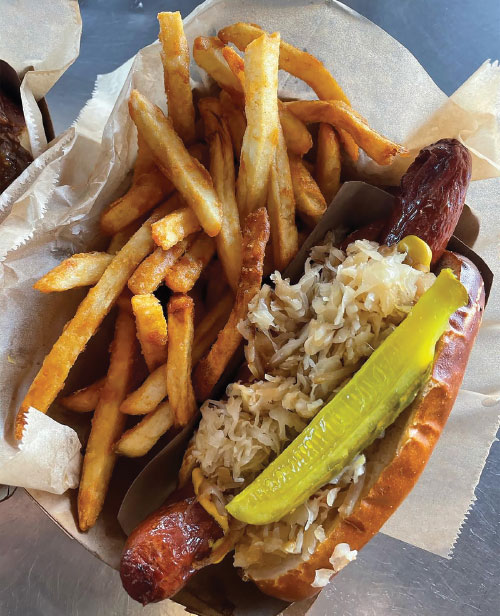 On most days in Los Osos, tucked inside the Grocery Outlet parking lot is a bright yellow food truck. Once you turn into the parking lot, you can smell alluring woodchip-smoked hot dogs. As classic rock pours out of The Greasy Wiener's speaker, residents excitedly approach the order window and immediately get lost in their menu. Their original family-recipe hot dogs on signature fresh bakery buns are their namesake. But they also make sausages, burgers and limited-time only specials found in their constantly-evolving menu that's equally as memorable and addicting. Just when you think you've found your favorite entree, there will always be something new and different on the menu takes your tastebuds into overdrive.
They may be called The Greasy Wiener, a name you don't want to investigate too deeply on Google, but there's nothing greasy about their solid presentation: beautifully prepared, quality ingredients with generous portions. Every meal looks like an Instagram glamor shot and tastes like nostalgic goodness from the heart of Los Angeles, which is where owners Adam and Loren Dragotta started their business. Adam is from New Jersey, learned to cook in his grandmother's kitchen and brought his passion for American cuisine to Los Osos. California native Loren spent her childhood in Los Osos. Two years after moving to Los Osos, the Dragottas brought Greasy Wiener to the Central Coast and never looked back.
Customers can build their own dog, but they can also try their classic L.A. Street Dog (family-recipe all-beef bacon-wrapped dog, diced tomatoes, grilled onions, ketchup and mayo). Covered in lots of flavorful toppings, Greasy Wiener's bacon-wrapped hot dogs are an action-packed and absurdly affordable treat. Try the Bomb Dog (bacon-wrapped dog topped with homemade chili, cheese, grilled onions, mustard and a kosher pickle spear). Every bite is packed full of flavor.
Their chicken sausage sandwiches are no joke. Their aged cheddar-infused bratwurst is thick and savory when paired with their fresh grilled peppers and onions ("Brat Jovi"). And if you want to kick it up a notch on the heat, they got you covered with their chicken cilantro jalapeno sausage ("Born to Run") and their cajun chicken sausage ("The Situation"). Their angus burgers are seven ounces of thick, juicy goodness. Get their bacon and blue cheese burger with avocado. It seriously rocks.
Keep an eye out for any changes and additions to their menu. They're always coming up with a new masterpiece, like their pulled pork and brisket sandwiches, which are smoked to perfection and covered with their sweet barbecue sauce. Make sure you pair these delicious entrees with a side of bomb fries (smothered in chili, cheese and smokey, crumbled bacon) or their one-of-a-kind bacon-blue-cheese potato salad.
Best of all, you can take your Greasy Wiener anywhere. Montana De Oro and Morro Bay are only a few short minutes away. Find a nice spot on the beach, lay out a blanket and have a picnic. Of course, some people have opted to enjoy their meal inside their car. Who can blame them? It's hard to not dig in immediately. Greasy Wiener is top-notch, classic American cuisine without equal.
The Greasy Wiener is located in the Grocery Outlet parking lot at 1130 Los Osos Valley Rd. in Los Osos. Visit their Facebook page at www.facebook.com/TheGreasyWiener