Flavor Factory in Morro Bay is the place where customers can enjoy some of the juiciest, most packed burgers in California. Located in a quiet part of a compact shopping mall, Flavor Factory is serving up a colorful and generous variety of burgers, sandwiches, soups and co-owner Dawnelle's signature desserts.
People recognize Flavor Factory chef/owners Adam and Dawnelle Pollard from their other iconic restaurant, Taco Temple, which they operated for more than 20 years. They brought the same spark and creative passion to Flavor Factory where they're constantly coming up with deliciously innovative specials that you'll find posted by their front door. Working alongside their daughters Riley and Camille, the Pollards are rockin' the kitchen, delivering some of the best, flavor-packed American cuisine on the Central Coast since 2016.
Flavor Factory is probably best known for their thick, rich, never-dry beef patties that provide a massively satisfying bite inside fresh pretzel rolls delivered daily from Edna's Bakery in San Luis Obispo. Combining their patty with delicious toppings like thick, crispy bacon, flavorful beer-braised beef chili, crispy chile relleno, or their savory cambozola cheese, their burgers are top-notch. It's no wonder Flavor Factory captured the 2020 award for Best Burger on the Central Coast by the Best of California TV show, and the accolades keep coming.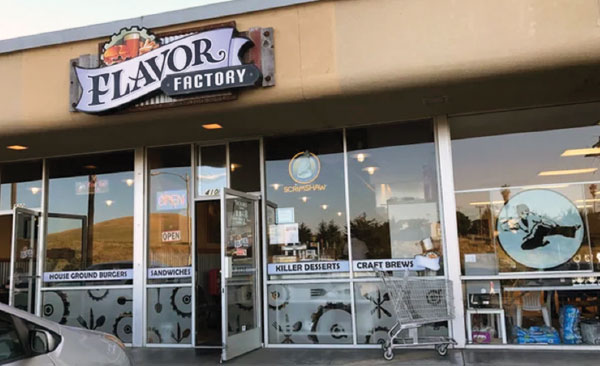 Customers enter the restaurant and order from one side of the restaurant, which contains an open kitchen and order counter. Customers often see Adam in the kitchen, preparing patties with his family's special blend of chuck, brisket and top sirloin. Customers dine in the restaurant's cozy and spacious dining room with raised ceiling and mesmerizing paintings by local artists like Charlie Clingman and Chris Pedersen of Forever Stoked and local oil and acrylic painter David Ramirez lining the walls. The dining room has an industrial look but a relaxed feel. Customers can sit back with craft beer from their rotating tap or wine and enjoy their ever-expanding menu.
Their sandwiches are just as plentifully detailed as their burgers. Try their Reuben on toasted marbled rye with grilled corned beef, melted swiss, sauerkraut, house sauce and a side of pickles. Be on the lookout for one of their seafood sandwich specials. When it's available, TOAST recommends trying their fresh salmon sandwich with herbed pesto mayo on a toasted french bun with the works. If you don't know which burger to get, order their sliders: three different mini burgers on toasted brioche buns.
Let's not forget their decadent desserts. Dawnelle brings her famous Carrot Cake from Taco Temple to Flavor Factory packed full of icing, brown sugar, cinnamon and carrot goodness. One slice is so large, it's a perfect serving size for three people, or take it home for an amazing late-night treat. There's also their whipped cream-topped chocolate bread pudding that melts in your mouth and leaves you begging for more. They offer a fun variety of cheesecake, and often serve chocolate chip cheesecake along with a specialty cheesecake that makes a compelling argument for having dessert for dinner. They won't judge.
Flavor Factory is located on 420 Quintana Rd. in Morro Bay. Visit their Facebook page at www.facebook.com/FlavorFactoryMB for their menu and weekly specials.