Ordering from Benny's Pizza in San Luis Obispo is never boring. It's always a race to buy what tastes like limited edition pizza for a limited time and everyone in the county wants in on the action. After joining owner Ben Arrona's Facebook group where he gives instructions on how to order his epic pies, the pressure is on. Photos of Benny's Detroit-style pizza flood the group page, with each photo looking more appetizing than the last. He sets up available times two days a week (Tuesdays and Fridays) when people can pick up his pizza, cheesy sticks or lasagna. Customers have a choice of pizza sizes and toppings. Arrona accepts orders only by Facebook private message. Supply is limited. Demand is high. First come, first serve. You snooze, you lose. Placing an order can be a fun adrenaline rush in itself. But once customers are able to successfully lock in their order and pickup time, they embark on a quest to score some of the best pizza in SLO County.
There is a lot of local hype and fanfare for good reason. Customers shout out Benny's Pizza's unofficial motto, "God damn, bro!" after diving into the crust's crispy edges and the thick, chewy center. Twenty ounces of rich, aromatic tomato sauce covers the pie and soaks into the crust, creating a mouth-watering 'sponginess' effect. Melted, bubbly, cubed cheese rests comfortably around the edges cushioning his famous and addicting caramelized cheese crust. His pizzas are loaded with quality toppings with limitless, tasty combinations. He often runs out of the "dignity" topping, though. Baked inside a rectangular pizza pan and baked to perfection, Arrona's large, nearly five-pound masterpieces are full of timeless flavor that transcends Instagram trends and hard-nosed pizza purists. The meteoric rise of Benny's Pizza during the pandemic was no fluke.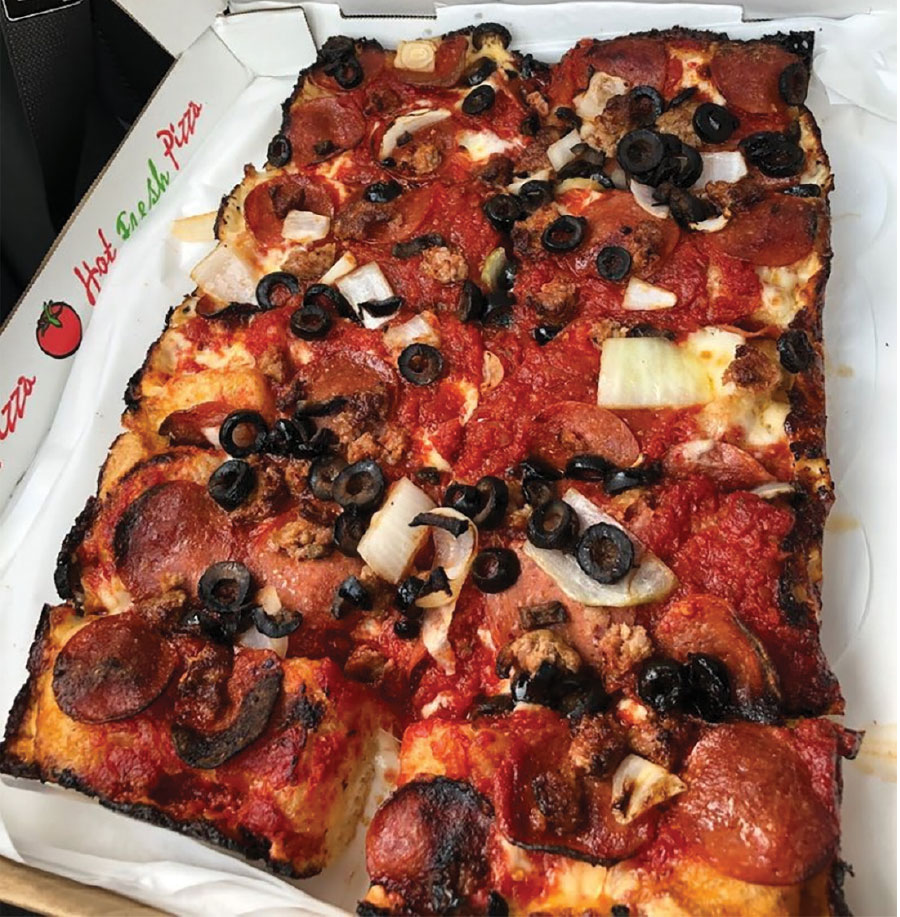 To further cement his legacy among the pizza giants, Arrona is opening up his restaurant in a building previously occupied by SLO's iconic Pepe Delgado's Mexican Restaurant, which closed last year after nearly 50 years in business. In SLO County, social media went ablaze when Arrona broke the news exclusively on Coast 104.5 FM's "Up & Adam in the Morning" show. Going from serving pizza in a pop-up kitchen on 977 Foothill Blvd. for a year and a half to taking over a space owned by one of SLO's longtime institutions can be a daunting task, but Arrona is uniquely poised to rise to the challenge. Born and raised in San Luis Obispo with 25+ years of local bar and restaurant experience, Arrona is paying homage to a restaurant his mother used to work at in the 1970s by serving the same high standard of quality fare that Pepe Delgado's served to customers for generations.
Arrona will continue to make the pizza he serves at home to his family and friends in the area — friends like Will Crosby, who previously worked as a Brewer and Packing Manager for Firestone Walker Brewing Company in Paso Robles. Crosby, who is from the Midwest, would always have people over at his house for dinner parties, and he cooked Chicago-style pizzas. Eventually, he would move onto making Detroit-style pizzas. Arrona learned how to make those pizza styles from Crosby and add his spin to the recipe. Word spread organically from his group of friends. "And a few of them were like, 'Hey, look, you can monetize this and make a lot of money,'" Arrona told TOAST. His pizza would catch the attention of friend Matt Ganes, owner of MG Sports Supplements, who informed him of a kitchen previously operated by Papa John's and suggested he move in. "About a week later, I was signing papers with the landlord."
Arrona's roots in the community run deep. He served in law enforcement for almost a decade with the SLO County Probation Department, graduated Allan Hancock Police Academy in 2004 and is also Adjunct Professor of History at Cuesta College. He's a third-generation Cal Poly student. His grandfather was a PhD and taught Marine Biology for over 30 years at Cal Poly. When he's not serving pizza and education, Arrona is serving slices at Liquid Gravity Brewing Co. owned by Brendan Gough, who was his classmate at Mission Elementary. The dedication to his craft and food comes from the experiences he had growing up in SLO and the many friends he made along the way.
And as friendly and approachable as he is, Arrona will not cut customers much slack when it comes to ordering. When Benny's Pizza Palace and Social Club opens around late summer/early fall, he's going to keep his Facebook group ordering system. "I only have limited amounts of pizza and I sell out because it's just the process," Aronna says. "You have to rise the [high-gluten] dough in the pan. And it's a very labor-intensive process: making the dough, laying the dough, doing the first rise, taking the dough in the first rise, rolling it in oil in the pan, de-gas in the pan, and then rising it for another two to four hours. So I'm going to make [only] so many pizzas because I only have so many pans and room in the oven." But it's the limited supply and labor-intensive process that makes the eating experience extra enjoyable and memorable.
Though the ordering process won't change, Arrona's menu will. He plans to expand the menu to offer lasagna by the slice, salads and chicken wings. It won't be long before Arrona and his crew honor the legacy and spirit of Pepe Delgado's at 1601 Monterey St. in SLO. Visit Benny's Pizza at www.facebook.com/groups/501102857178423 and join his group for ordering and more info.