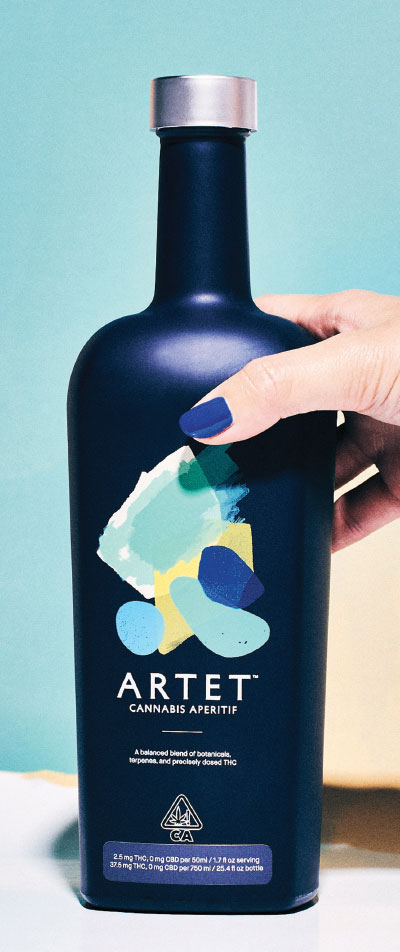 Uptown New York tastes amazingly refreshing under the California sun. The Big Apple, where concrete, steel and glass reign, and the Big Orange, where grapes and sun god rules, share a continent-deep polar connection. Bred in New York and based in L.A., Artet cannabis-infused beverages have formed a flavor bond that's adding a welcome dash of pizazz to the bubbling-up cannabis-infused beverage market. But to understand the philosophy behind Artet beverages, you must first understand what an aperitif is (a refreshing alcoholic drink usually served before a meal to stimulate the appetite) and how it applies to Artet beverages, because the aperitif culture and lifestyle lies at the plush core of the Artet experience.
Xander Shepherd and cousins, Zachary and Maxwell Spohler, now partners in Artet, were, as they often reply when asked, born into a big, boisterous New York family that loves to get together and looks for any excuse to have a good meal and chase it with a drink. Traditionally, that always meant alcohol. Generationally, though, the younger family members and their friends appreciated cannabis, and when the family got together and alcohol was consumed, sometimes too much, they'd be the ones to step outside and smoke a joint.
"The initial idea, kicking it around with my partner Zach," says Shepherd on the birth of Artet, "was this notion of, what would it look like and what would it take for cannabis to infiltrate the spaces that have been traditionally owned by alcohol, but for which alcohol has no implicit ownership over, other than the fact that, culturally and regulatorally, it has been given an unfair advantage in those spaces. What would the product have to look like? What would the product have to taste like? What would the expectations of the consumer be?"
This nagging notion, and the arc of a rising cannabis economy, consumed them, observes Shepherd, "this idea of a cannabis-for-cocktail moment, this notion of an aperitif culture and lifestyle." They all felt that "cannabis in the right context, the right configuration… is the perfect aperitif, all of the things we understand about a drink after work," he says. "If we could figure out a right way to elegantly, socially, professionally dose product that was elegant, that was delicious, that was fragrant and floral, and have it have the benefits of cannabis, instead of the side effects of using alcohol, there might be something exciting there, and that's really what got us going."
Thinking about a nifty name for their notion, they decided they wanted something inspired. "We always wanted Artet to feel like it could play in two lanes: be unapolgetically rooted in cannabis, but still graft off and build a new chapter in the world of cocktail culture and spirits. We really wanted something that could sit alongside Campari and Fernet and things of that nature, that had that sound where somebody could say, 'Artet on the rocks, Artet and tonic.'"
Positioning themselves as "a beverage company at the intersection of cannabis and cocktail culture," in 2019 they launched their their 750ml flagship aperitif, which is the cornerstone of their business. From there they launched low-dose canned cocktails. Artet's biggest seller by volume is its Rosemary Jane canned cocktail. Describes Sherpherd, "It has delicious notes of rosemary and grapefruit, and almost drinks like a Campari soda: refreshing but with a bitter backbone to make it something you savor. It is a unique product with a clearly defined benefit to the consumer: a beverage that allows you to mimic the elegance of enjoying a cocktail with the benefits of cannabis, on your own terms.
"We are hyper focused on creating cannabis beverages that capture the romance and elegance of cocktail culture without relying on alcohol. Our flagship aperitif is inspired by French and Italian liqueurs both in flavor profile and dosing. Artet is a botanical beverage that is delicious on the rocks and a worthy stand-in for alcohol as the base of a mixed drink. When it comes to dosing, we created Artet with sessionability in mind, to mimic the experience of enjoying cocktails. Whether you just want one drink to take the edge off or something a bit more potent, the drinking experience isn't diminished in pursuit of how you want to feel. Our canned cocktails follow the same logic; starting with a double pour of our Aperitif and finishing with fresh juices, tonics, and tinctures to create a true sum-of-its-parts cannabis cocktail that is great for those ready-to-drink moments."
Advises co-founder Maxwell Spohler, "Consumers should expect a drink that stands for something. In terms of taking that first sip it means a few different things. From a flavor standpoint Artet will not be that easy to pin down. Like a traditional amaro or bitter, the blend of herbs, spices, citrus and cannabis combine to create a flavor that is uniquely Artet. The flavor is approachable and comforting, but meant to be sipped and savored. From an experience standpoint, Artet is meant to transition you away from the tasks of the day and into a state of being that is primed for good food, good conversation or simply relaxing."
Artet's flagship Aperitif is 37.5 mg THC per 750 ml bottle (0 mg CBD), and their cans are a 1:1 ratio of THC:CBD at 5mg each. They are set to launch a double-strength aperitif at 75mg in the coming weeks. "Balancing flavor was critical in formulating Artet and every beverage from the Artet family," explains Maxwell Spohler. "It was critical to create a memorable drinking experience, without being abrasive in terms of taste. Specifically for the flagship, a key challenge for us was to create a delicious drink that both could be enjoyed on the rocks, but also had the depth of flavor, boldness and versatility to stand up to a range of mixers and other ingredients."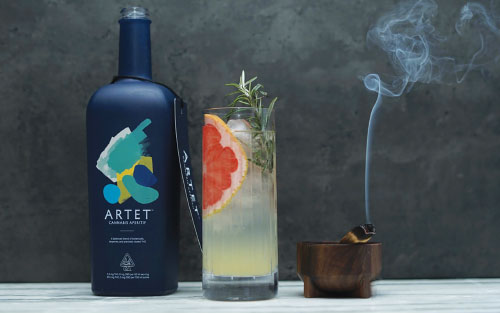 "Our vision," states co-founder Zachary Spohler, "is that one day you will be able to go to a bar or a lounge and order an Artet cocktail the same way people are used to socializing over alcoholic beverages. We see Artet as a leader in bridging the worlds of mixology and cannabis, pioneering the belief that a delicious and robust drink does not need to begin with alcohol. As cannabis enthusiasts, we are really motivated to lean into the different flavors and terpenes present in cannabis. We are eager to help consumers become aware of the benefits of plant-forward flavors, as opposed to masking the cannabis ingredients."
"The challenge for us," acknowledges Shepherd, "is getting people to realize that they have permission to ask for something like this. Historically, they have not had that permission. When you make that clear to them, the light bulb goes off. What we're doing at Artet is creating additional feelings, moods and flavors for the modern bar cart. It's up to the consumer to have the optionality to decide how they want to feel, and that's the exciting thing about what we're doing with Artet. We're giving people more agency and option to say, hey, I want a drink tonight… making it clear that it's cannabis for your bar cart, cannabis for your dinner party, for moments when people would maybe say, I would bring a bottle of wine as a gesture to this dinner party, but maybe I can now bring a bottle of Artet."
Until cannabis drinks are legally sold at bars, restaurants and hotels, Artec has made its presence felt in home bars and liquor cabinets while also earning a young, hip following because of Artet's clarity, ingredients and complex taste, with a bite. Artet is an intelligent drink and intelligence requires critical drinking. Dosed with low amounts of THC, Artet is sophisticated and memorable, bitter and mixable. "Our bottle is one that certainly leans more into that at-home mixologist, that group who finds it exciting, almost ritualistic, if you will, when they're done with their day to mix themselves a drink, to crack open a bottle, crack open their favorite tonic water or specialty water and make a nice, little, after-hours mixed drink. Canned cocktails resonate with a different consumer and allow us to translate the experience that is aspirational, the idea of a cocktail or a nice, elegant drink that says something about you and your taste in a way that's more presentable."
Innovation and technology have advanced the ability to infuse water and oil, which Shepherd finds exciting, and which raises the ceiling for success for cannabis beverages. Previous fledging attempts at combining oil and water to make cannabis beverages left a less than satisfactory taste in consumers' mouths. "Step one," says Shepherd, "was getting people familiar, excited and confident that the next iteration of cannabis beverages were not going to give the same oily, slick mouth feel that people were really grossed out by. We can control that plant-forward flavor in a more intentional, nuanced way, and look at it more like an additional botanical than anything else."
With the increasing likelihood that "consumption lounges," public places and spaces where cannabis can be used and sampled, will be permitted in California next year, Shepherd is "beyond excited" about Artet's vision moving a step closer to reality. "We want to be able to create products in existing spaces and places where we as humans have traditionally shown we want to spend our time, where it's enjoyable, where we can socialize with people, where we can think up new ideas, where we can fantasize, where we can almost steal away from the day, the whole third-base notion around coffee shops. We feel very excited about what the implications are for lounges, for what they are today and also what they represent as a proof point for sensible integration of places like hotels or restaurants or bars to create safe pathways for alcohol and cannabis to be present in the same place without them needing to be so strictly segmented. Alcohol isn't bad, but alcohol does have "a cultural and social stranglehold on the places today where people aspire to go, a restaurant, a bar, a lounge. If we can level the playing field, if we can also give people optionality to choose in the spaces what products, what feelings, what experiences make the most sense for them… We're very excited about what it represents in terms of the future of the general on-premise acceptance of cannabis."
States Shepherd, "Our goal today is to put Artet on every bar cart in California, whether that's someone who actually has a legitimate bar cart in their home or a place where they store they beverages. We are not sitting idly by waiting for this exciting future to take shape in a year or two or whenever. We're trying to bring the future today by also giving consumers the awareness, education and confidence to understand where cannabis fits in their lives, so by the time we've reached that future where we can walk into a bar or restaurant, and in the right context, with the right dosing, with the right expectation, order something with a high cannabinoid profile, people will be primed to know what that means, what their limitations are, how they meter themselves…
"I see a lot of what our products and our peers' products are doing today as accelerating that kind of shift in cultural behavior across the U.S. in markets where legal, and not sort of waiting for it to turn on and give us permission to do so."
For more information on Artet beverages, visit artet.com.