More and more cannabis lovers are discovering cannabis-infused beverages, and it doesn't take a deep Family Feud survey of top answers to figure out why. No. 1, it only takes 15-20 minutes to feel the effects, and No. 2, you can share the fun experience with more friends than just smokers. Dosages per can or bottle range from the mild high of 2mg THC to a mile-high 100mg THC, so you can control your high as you go. There's also a wide variety of tantalizing natural flavors and ingredients that tickle the tastebuds. Some of the other perks of drinking cannabis are things you don't have to endure anymore to get high: no smoking, no alcohol, no hangover, no apologies. Here are three quality cannabis-infused beverage brands that deliver a high with purpose, passion and bold flavor.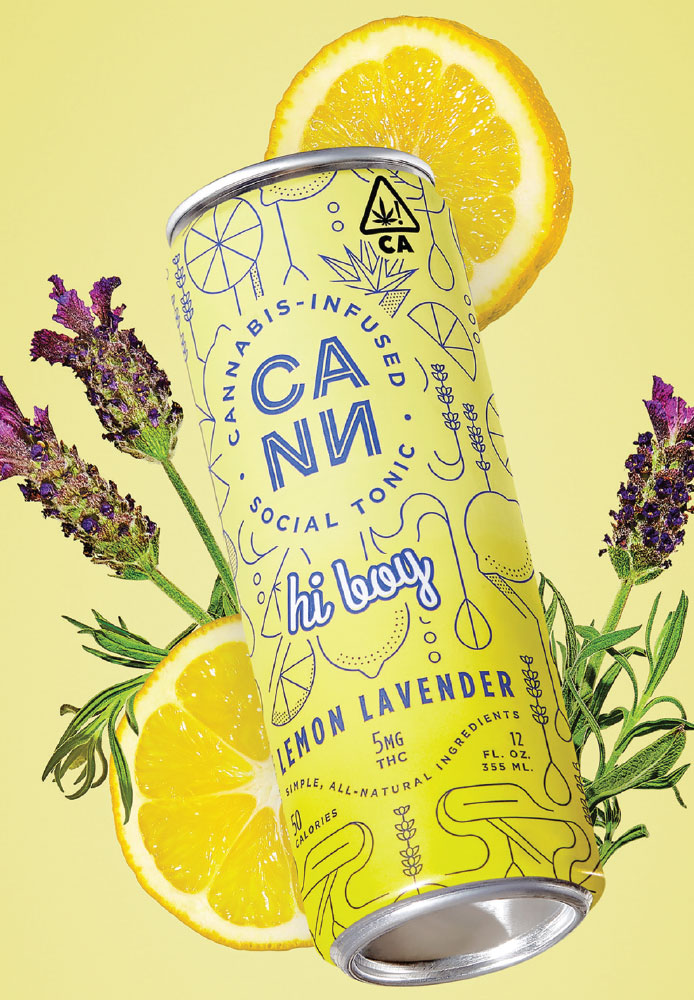 CANN (drinkcann.com)
LGBTQIA+-friendly, low-dose pioneers, Cann's line of "cannabis-infused social tonics" promote "a feeling of vigor or well being plus a light cannabinoids (THC and CBD) blend for a refreshing, uplifting social buzz." Cann boasts their drinks are not from concentrate, all natural flavors, lightly sweetened – no artificial flavors, no gluten, no GMO, no stevia. A 4-pack sells for $22. Cann's focus is primarily on low-dose drinks, following the packaging path of mainstream adult beverages like beer and hard seltzer. Two of Cann's most popular drinks today are the Blood Orange Cardamom and Lemon Lavender, especially in their original size and dosage (8oz. can is 2mg THC, 4mg CBD).
"We believe they are connecting with consumers because they use ultra-premium ingredients – the citrus comes straight from Sicily," Cann co-founder Luke Anderson told TOAST, "and they use interesting flavor profiles that remind consumers of what they might find in the grocery store drinks cooler or on a cocktail menu at an upscale bar."
Anderson believes what sets Cann apart are dosage and healthiness. "We're the first – and one of the only – cannabis beverages that are low enough in THC content that a new-to-cannabis consumer can have a few and still be able to socialize and not melt into the couch from being stoned. Aside from dosage, we really differentiate from the alternative options by being both low-sugar and low-calorie without using any artificial ingredients, especially nasty sugar substitutes." Cann tonics are only comprised of five natural ingredients – carbonated water, agave, juice, essential oils and Californian cannabis extract.
But dosage is key for Cann. "Caffeine and alcohol are mild intoxicants when we drink them at a low dose, which is why we can have four cups of coffee or a couple of beers in an evening." Anderson explained to Forbes magazine. "That concept wasn't in the cannabis industry. Bringing the dosing down makes a lot of sense for a social product. You can consume many of them, it's incremental, you can share."
The range of strength of THC and CBD, along with taste, balance Cann's recipe for success. "Our signature dosage is 2mg THC and 4mg CBD, but we also have a 5mg THC product called the 'hi boy' for people who want to have a bit more intensity," states Anderson. "We will never make anything over 5mg THC because we don't want anyone to have a negative experience from getting 'too high,' a common complaint about cannabis from our consumer base. We love being the brand that rewrites the 'bad pot brownie experience' from college.
"By bringing the dosing down," added Anderson in Forbes, "you get a euphoric, much more controllable, uplifting experience. You can't have a bad experience with a Cann. You'd have to open all six and chug them." That Cann low-dose drinks are more expensive than higher-concentration alternatives does not deter him. "People are looking for experiences with brands they love," he said, "not to get super-wasted."
Cann is going after cannabis consumers who have never purchased a cannabis drink from a dispensary before. When they try a Cann drink for the first time, observes Anderson, consumers can expect "to taste something delicious and then feel a mild, uplifting social buzz that helps them take the edge off after a long day or week. Similar to what you get from alcohol, but without the empty calories or dreaded next-day hangover and regret."
Anderson sees cannabis-infused beverages occupying a cool corner in more dispensaries next year. "We hope in 2022 that there are so many options in the dispensary cooler that you start to see bigger fridges and a more grocery-like beverage buying experience, but until we have a wider variety of options that look good and taste good, THC-infused beverage will remain a pretty niche life hack for people who are seeking healthy alcohol substitutes."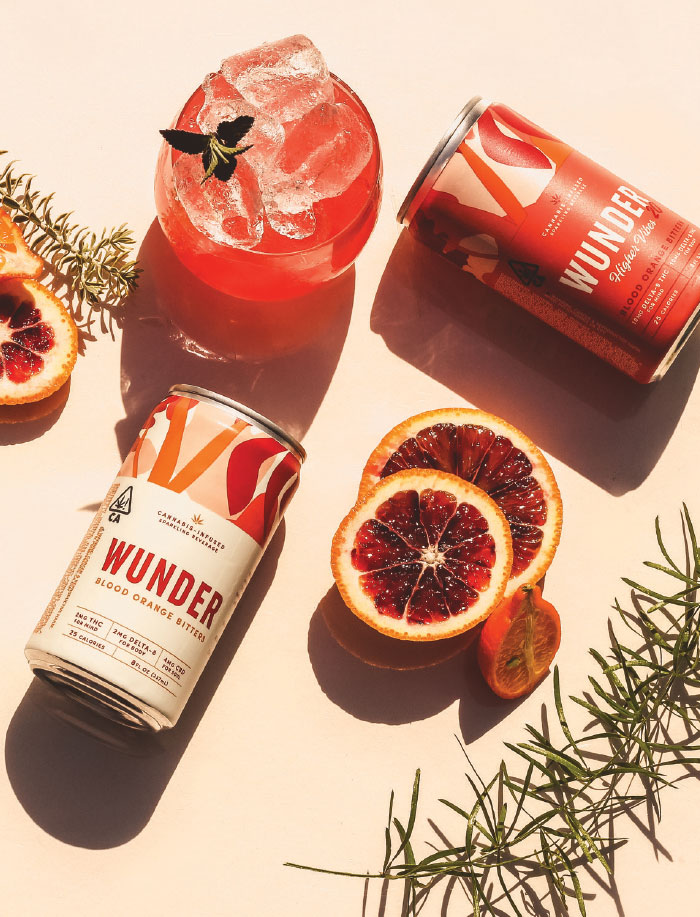 WUNDER (findwunder.com)
Wunder cannabis-infused canned drinks are low-dose, sparkling, with Delta-8 THC and CBD. "Feel engaged and inspired, not sluggish or foggy," offers Wunder. Their combination of cannabinoids "creates a gentle wave of relaxation and euphoria. Enjoy a low-dose of Delta-9 THC for a blissful mindset and Delta-8 THC for a mellow, in-body sensation, while the balancing effects of CBD create an uplifting experience, with less than half the calories of beer or wine."
Wunder drinks are sold in 4-packs for $20 in four flavors: Lemon Ginger, Blood Orange Bitters, Watermelon Wave and Grapefruit Hibiscus. What's in the can? All-natural ingredients, 2mg Delta-9 THC, 2mg Delta-8 THC and 4mg CBD. According to Wunder's website, the 2mg Delta-9 THC is for the mind, producing a mild euphoria that helps "mellow your" mood and put into "a happier headspace." The 2mg Delta-8 THC is for the body, creating an in-body sensation and physical relaxation, releasing body tension and "tightness." The 4mg CBD is for the soul, ensuring overall effects are smooth, enjoyable and "soulful."
Wunder pitches "a better alternative to alcohol" with no hangover and half the calories of beer or wine, served chilled, straight from the can or over ice. Wunder has two lines of popular drinks: Sessions and Higher Vibes. Sessions are low-dose beverages that are sociable so people can enjoy more than one. Higher Vibes are high-dose beverages for seasoned cannabis consumers "seeking unique cannabinoid experiences, says Alexi Chialtas, Co-founder and CEO of Wunder. "People love both lines of drinks since they fit different use occasions and because they're available in bold, refreshing flavors. Grapefruit Hibiscus is a top-seller for Sessions, and Blood Orange Bitters is often a go-to flavor for Higher Vibes.
Chialtas cites a report that 68% of consumers in adult-use states are currently consuming or are open to consuming cannabis. "So we see an opportunity to meet them where they are – accustomed to drinking and open to cannabis. Wunder is meeting the demand for safe, fun, predictable and consistent products that help people socialize and enjoy life without the hangover.
Wunder also offers fine fuel for high-flyers. "Wunder Higher Vibes is our first high-dose sparkling beverage for the cannasseur who is more accustomed to a stronger dose, with 10mg Delta-9 THC for elevated bliss and 10mg Delta-8 THC for solace and calm."
Wunder drinks are designed for a shared social experience that gradually gains altitude. "Wunder is made for people to have fun and be social while maintaining control of the buzz they feel. Similar to a glass of wine or a cocktail, people will experience a gradual euphoria while sipping and savoring Wunder."
Chialtas recommends first-time consumers start with their Sessions line to get a feel for the effects before climbing the ladder. "For people new to cannabis, I recommend starting with our Sessions line of drinks, which will produce effects that are calm, blissful and relaxed. Each 8oz can of Wunder Sessions can be felt at a significantly faster pace than most edibles, allowing the effects to be felt in as few as 15 minutes after consuming.
"For seasoned cannasseurs, our Higher Vibes line of drinks produce a calm, relaxing and lucid high. When Delta-8 THC is consumed in higher quantities, and with a healthy dose of Delta-9 THC, the effects create a bold and delightful shift in perception followed by waves of calm. Similar to our Sessions drinks, the effects can be felt in as few as 15 minutes," says Chialtas.
Wunder's appealing combination of cannabis and flavor connects with consumers. "Wunder is known for our bold flavors and unique cannabinoid blends that provide soothing and social experiences. Both are integral to our success in addition to consumer trust, which comes from providing an enjoyable, safe, predictable and consistent experience with every drink."
For Chialtas, cannabis drinks are the future of cannabis. "The future of cannabis will be led by infused beverages like Wunder. When you look at how people socialize in the U.S., it's usually with some sort of alcoholic beverage. As more people become curious about cannabis, or examine their relationship with alcohol, infused beverages will stand out as an attractive offering. The form factor is familiar since people know how to drink, and low-dose options like Wunder Sessions produce social effects that mimic the positive aspects of alcohol minus the negative effects or hangover."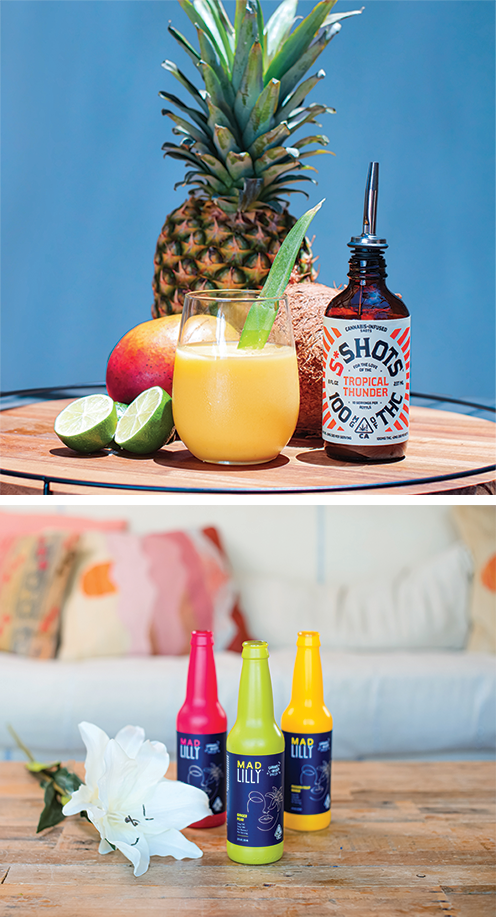 MAD LILLY and S*SHOTS (drinkmadlilly.com, s-shots.com)
"Brighten your world" welcomes you to the Mad Lilly website. "We blend all-natural fruit juices and low doses of cannabis to create wildly tasteful experiences, be it a soothing night's sleep or a moment of sparkling joy." S*Shots declares "it's for the love of THC – 100mg of glorious THC expertly blended with sweet & tangy fruit juices for a flavor-explosive-full-body-high. Explore your levels with each tasty shot and enjoy the ride. Just remember, this shi*ts strong."
Remarks Judy Yee, CEO and Co-founder at K-Zen, "At K-Zen, we have a wide variety of cannabis-infused beverage products for different types of cannabis consumers – whether you consider yourself a 'cannasseur' or are interested in trying cannabis for the first time, we're inspiring new ways for different consumers to enjoy its benefits."
Mad Lilly and S*Shots offer a variety of drinks to fit the occasion, depending on the experience you're looking for: Mad Lilly Spritzers, Mad Lilly Tonic and S*Shots. Mad Lilly drinks sell for $10 a bottle. S*Shots sell for $19 a bottle containing 10 servings.
"Mad Lilly Spritzers are our premium cannabis refreshment for the spirit. We infuse real fruit juices and playful effervescence with 5mg CBD and 5mg THC to inspire an uplifting mind plus body buzz. It's a simple and tasteful alternative to alcohol. Mad Lilly Lemon Dream Tonic was the first cannabis drink on the market made with CBN, a cannabinoid that promotes relaxation for your sleep routine. We infuse lemon balm and lavender extracts with real fruit juices with cannabinoids, including CBN, CBD and THC, to inspire calmness and serenity."
S*Shots are for the more experienced cannabis user. "With 10mg THC per serving (at 10 servings per bottle – this product is perfect for those who know life is simply better with cannabis and for those who like to create their own cannabis mocktails."
When trying a S*Shots and Mad Lilly drink for the first-time, consumers know what to expect. "Each fruitful flavor [of Mad Lilly drinks] has a great taste, and you should start to feel its effects within 15-20 minutes of consuming – and should last about 90 minutes to two hours. Our Lemon Dream Tonic is designed to work synergistically with our all-natural botanicals, like lemon balm and lavender extracts, to promote a sense of calmness and serenity for a restful night's sleep. I recommend drinking it about 30 minutes before going to bed and you should start to feel its calming effects within 30 minutes. S*Shots are expertly blended with sweet and tangy fruit juices for a flavor explosive, full-body high."
S*Shots pack the highest THC at 100mg per bottle, which comes with a dosing marker on the side. "Our recommended dosing is 10mg THC, but if you're new to cannabis I'd suggest you try a low-dose first, either 2.5mg or 5mg. S*Shots does not contain any CBD. Mad Lilly Tonic has a 5:3:2 ratio of CBN, THC and CBD, and was designed to create an optimal blend of cannabinoids for full-body relaxation. It's available in either a 2oz. or 8oz. bottle – 2oz. is for a single night, and our new 8oz. bottle is meant to last for eight nights. Our Mad Lilly Spritzers have a balanced 1:1 ratio of 5mg CBD and 5mg THC and are made with 100% all-natural ingredients. All of our products are low-calorie."
Having worked in the food and beverage industry for over 20 years, Yee has learned that there are combinations of ingredients that express distinct flavor profiles, and they constantly evaluate their products from a taste, aroma "and mouth-feel standpoint so we always get it right. … My philosophy is to compliment, not mask, the cannabis flavor."
Yee's goal over the next few years is to add to their portfolio of brands and products and expand across multiple states. "I think the future is bright for cannabis-infused beverages, and envision the day will come – sooner than many think – where cannabis drinks will be at restaurants, bars, and where shoppers can purchase them at their local grocery stores. I co-founded K-Zen just a few years ago, so we're a relatively new cannabis-infused beverage company, but we've already grown exponentially. We just launched our third flavor of S*Shots, Tropical Thunder, and are gearing up to release our fourth flavor, Berry Blast, in October."