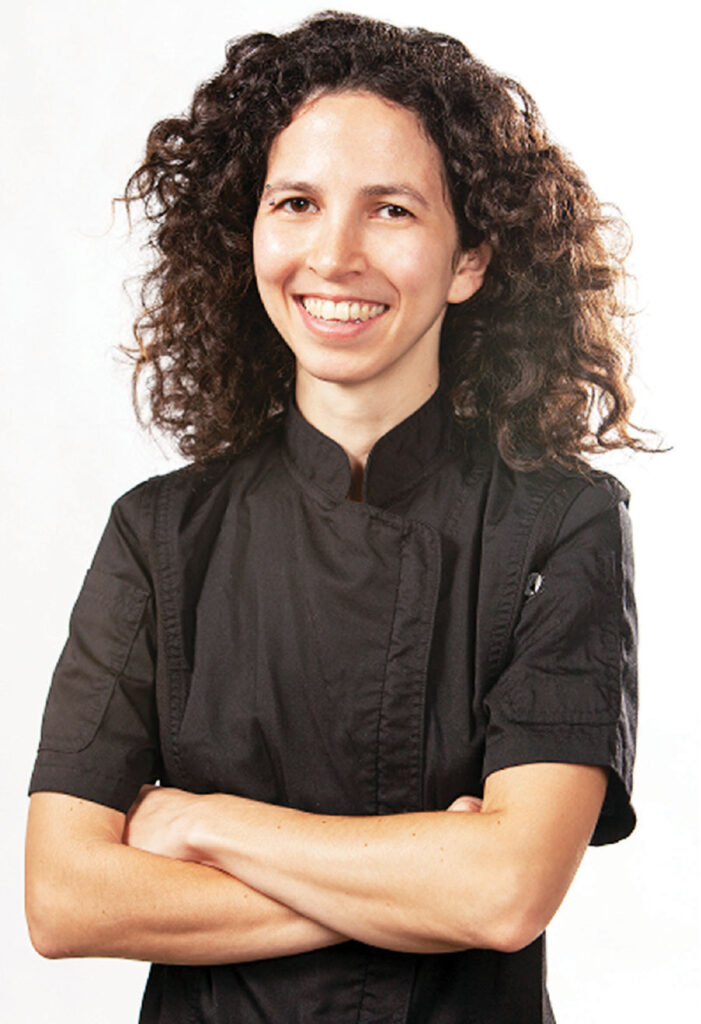 Over the past 10 years, cannabis edibles have moved far beyond the party brownie and have become formidable, culinary masterpieces. Nothing encompasses that evolutionary process more than Madame Munchie and its Founder and CEO Kim Geraghty. Launched in 2014, the Los Angeles-based woman- and LGBTQ+-oriented company brings as much colorful diversity to the edible experience as they do with their highly successful business.
Combining centuries-old traditional French baking with the best that California cannabis has to offer, Madame Munchie's famous French macarons have won several awards, including 1st place at the High Times Cannabis Cup. With a crisp meringue shell, a doughy almond cookie and a choice of nut butter or chocolate ganache filling, Munchie's macarons elevate the edible game with delicate, delicious finesse. But what makes Madame Munchie and Geraghty stand out in the edible field is the desire to make the simple act of cannabis consumption an artful, transformative experience in itself.
"Consumers are looking for relief from the mundane and from the everyday routine," Geraghty told TOAST. Geraghty hopes the ultimate takeaway consumers get from tasting Madame Munchie's handcrafted products is to tap into the kind of fun that we experienced as kids. "I think we're all children who are older. We're not really 'grown up' ever, or if there is such a thing. We're trying to have some fun [with] our edibles," says Geraghty.
The fun, says Geraghty, is derived from the Madame Munchie brand and what that brand represents. Geraghty is the real-life version of Madame Munchie, a fictional kitchen chef from the past who was widely known throughout France for her delicious pastries. The experience and wisdom Madame Munchie brings to the present translate into an array of unique and tasty morsels including pates de fruit (fruity chews), infused coconut oil and peanut butter, infused coconut oil and "FLEUR" ("flower" in French) prerolls. Each product contains natural, locally-sourced ingredients, including sungrown cannabis from Madame Munchie's family-owned farm in Mendocino County.
Edibles are surging in popularity, especially the one of a kind Madame Munchies produces. As cannabis continues to be legalized throughout the U.S., more consumers are learning to appreciate the recreational and medicinal aspects. This has led to food and beverage businesses scrambling to fill the growing niche. While businesses continue to navigate through the complexities of health and safety regulations, Geraghty has risen to the challenge by not only working with those regulations, but also embracing the rigorous lab testing process with high-precision equipment to ensure the accurate dosage in her cannabis products. That process helps Geraghty educate consumers on how much they can consume. "What I try to do is help people understand those numbers and understand what their dosage amount is when they eat a product," says Geraghty, "and when they get to a number and feel comfortable with it, that can really enable anyone to have a great experience."
For Madame Munchie, part of that great experience comes from using full spectrum, which is the process of taking the uniqueness of a strain, the cannabinoid profile and terpenes, and carrying it over into the edible process. Full spectrum utilizes the infusion with their proprietary in-house cannabis butter or organic coconut oil to deliver a unique richness as a result of having that full profile. Full spectrum edibles are able to capture the essence of THC, cannabinoids, cannabidiol (CBD) and all those elements. "We may not fully understand exactly how they function on their own," Geraghty says, "but what we do know is that altogether they create what we call an 'entourage effect.' It allows the product to have a more well-rounded impact. You're really getting a closer experience to what the plant is trying to provide."
Even if cannabis was not an active ingredient in their products, Madame Munchie's product line stands out on taste and flavor. Geraghty spends a lot of time researching the recipes that move her the most and actively finding inspiration from the recipes she learned while growing up in Paris. Madame Munchie stands out from most edible bakers due to their commitment to using traditional French techniques, which is time-consuming. For example, the macarons take at least three days to make. But Geraghty finds satisfaction from the math involved in creating her signature treats. "I like the mathematical analysis of ratios between ingredients," Geraghty says. As meticulous as their process may sound, Madame Munchie's attention to detail and desire for every product to be calculated and weighed with a more degree of accuracy are traits she's proud of.
Geragthy's pride goes well beyond the kitchen. As a female, gay small business owner with an all-female staff, Geraghty infuses the diversity of her products with the diversity of her life. "The world is a better place with more diversity because we all have something to bring to the table," Geraghty says. "The more perspective we gain, the more we can try to understand each other."
Madame Munchie is an unmistakably wholesome, quality brand that takes consumers on a cerebral journey through the streets and bakeries of Paris, leaving them to explore like children who just discovered the euphoria of fine taste for the first time. Consumers are given a variety of options to choose the kind of culinary journey they want to go on. When they find the recreational bliss or medicinal relief they're looking for, they're left with a timeless joy and appreciation for Madame Munchie's gourmet menu — handcrafted with love and acceptance that make the results infinitely stronger.
Check out Madame Munchie's products at www.madamemunchie.com. Learn more about Kim Geraghty by visiting www.madamemunchie.com/about-us
Clarification: We fixed the inconsistent spelling of Mrs. Geraghty's last name and regret the error.