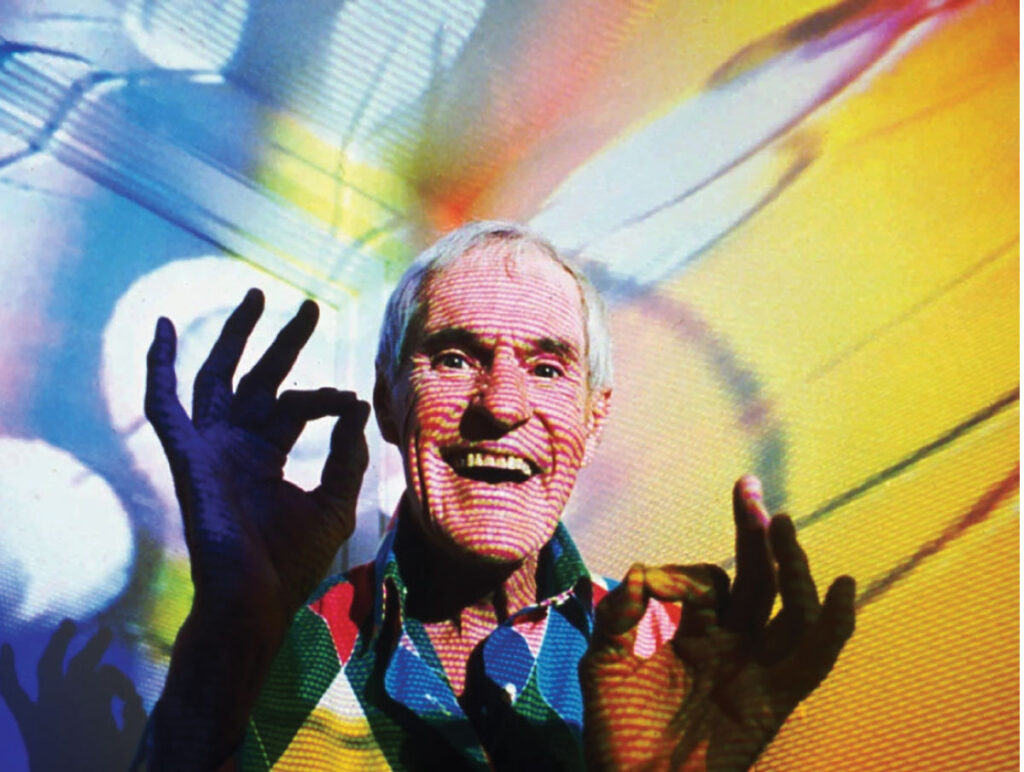 The 2020 documentary My Psychedelic Love Story is a 'trippy' reminder that 50 years ago last September the High Priest of LSD, Mind Expansion and Higher Consciousness, Timothy Leary, passed through – actually escaped – San Luis Obispo on his way to the world, something very few people can claim.
Leary had been serving an up-to-10-year sentence for marijuana possession at SLO's Men's Colony. No single individual was more responsible for stirring up the counterculture of the 1960s and '70s, spreading the mind-opening message of the LSD experience from coast to coast and around the world, than the former clinical psychologist and Harvard lecturer.
Following his escape, the ensuing global manhunt spanned 28 months and wound its way among homegrown radicals, European aristocrats, a Black Panther outpost in Algeria, an international arms dealer, hash-smuggling hippies from the Brotherhood of Eternal Love and secret agents on four continents. An articulate speaker and compelling author (The Psychedelic Experience, The Politics of Ecstasy, Jail Notes), Leary was considered a serious threat to the government back then with his "turn on, tune in, drop out," "go out of your mind" and "think for yourself, question authority" mantras.
At the time of his incarceration in SLO, the Men's Colony was a minimum security facility and detainees could stroll away if they dared – at the peril of serving a longer sentence if caught. But Leary did just that, though how he did it isn't clear. Leary died in 1996. He would have turned 100 last October.
Here's how Leary's escape played in the media in 1970 and 1973.
Timothy Leary, Drug Advocate, Walks Away From Coast Prison
Sept. 14, 1970
SAN LUIS OBISPO, Calif., Sept. 13 (UPI)—Dr. Timothy Leary walked away today from a minimum security prison where he was serving a sentence for marijuana possession. Leary, 45 years old, disappeared during the night from California Men's Colony West, a prison four miles west of this city midway between Los Angeles and San Francisco near the Pacific Coast.
His prison clothing — blue denim shirt and pants — and one of his socks were found a few hours later in a service station rest room about two miles south of the prison on U.S. 101, the main north-south highway. The prison is on California 1— the "hippie highway" used by hitchhikers heading north for the Big Sur region.
Leary, a former Harvard instructor and an early advocate of LSD, was convicted last fall in Santa Ana, Calif., and sentenced to six months to 10 years in prison. He has been working in the prison clerical pool since being committed March 18.
The service station attendant who found Leary's clothing told the authorities that he had not seen Leary or anyone suspicious during his all-night shift. He found the clothing in the rest room about dawn and notified officials after hearing of the escape. The change of clothing seemed to indicate that Leary was met outside the prison by an accomplice after he scaled a 12-foot chain link fence topped by two strands of barbed wire.
Leary was convicted after he, his wife, Rosemary, 34, and his stepson, John, 20, were stopped by a policeman at Laguna Beach on Dec. 26, 1968.
Timothy Leary Sentenced To Up to 5 Years in Escape
April 24, 1973
SAN LUIS OBISPO, Calif., April 23 (UPI)—Timothy Leary, the drug cultist, was sentenced to six months to five years, in prison today for his 1970 escape from the California men's colony. Superior Court Judge Richard Harris ordered the new prison term to run consecutively with Leary's original sentence on a Marijuana charge. That means Leary, has to complete his first sentence, six months to 10 years, before starting the new term.
Bruce Margolin, Leary's attorney, immediately filed notice that the conviction and sentence would be appealed.